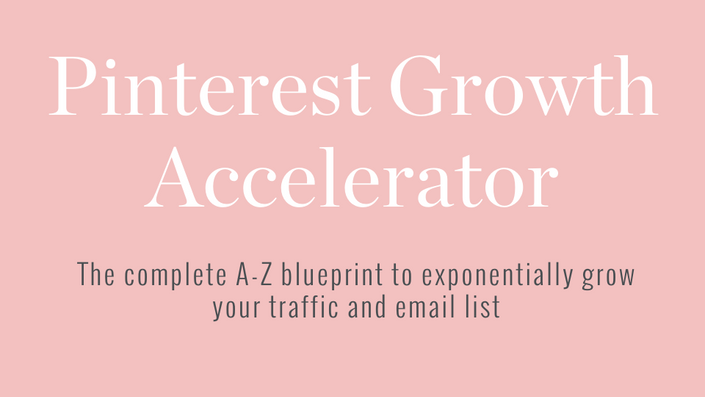 Pinterest Growth Accelerator
The complete A-Z blueprint to exponentially grow your traffic and email list with Pinterest
Enroll in Course
What if I told you that you could...
Get heaps more traffic to your site in less than one hour a week and convert those visitors into paying customers, driving more profits for your business?
Does this sound familiar?
Completely lost on how to attract and reach your ideal audience. You know that your dream clients are on Pinterest. You know that they're pinning products or services to buy. But you're clueless on how it all works and you don't know how to actually grab their attention and get your work in front of them. "Is it the same as Instagram?" "Do quotes work?" So many questions!
Spinning on a hamster wheel with little results. You're throwing all of your time and money into creating content and you've got little to show for it.
Sick of soul-sucking projects that don't fulfil your purpose. You're trading hours for dollars and you find yourself saying yes to things that don't light you up. You end up with a laundry list of things to do that you struggle to get done on time.
Did you raise your hand to any of the above? Good. You're in the perfect place!
The truth is to achieve something you've never achieved before, you need to do something you've never done -- AKA putting your pinning on auto-pilot and driving huge traffic to your site.
I know you may have avoided the platform in the past but how long are you going to wait before you set your brand up to generate traffic on AUTOPILOT?
It's time to knuckle down on traffic techniques and put some strategy behind those pretty pins.
Maybe you didn't know
That by setting up your brand to generate traffic on autopilot, you'll also have:
An engine that attracts your most loyal and genuinely interested subscribers - who happily invest in your products and services (you betcha!)
A smarter content marketing strategy where you can repurpose your content instead of creating content from scratch.
A solid foundation to start profiting from all of those fun strategies you keep hearing about (i.e promotions, webinars and funnels!).
The power to quickly validate and pre-sell offers before spending countless months creating them (f'real!).
The opportunity to launch an online course and generate scalable income and impact.
The problem is that you're using Pinterest to pin "Deliciously Ella recipes" without realising the killer marketing traction it could bring to your website.
Here's the deal:

Pinterest is an under-utilized marketing unicorn you can use to drive BIG results for your business (no matter what niche or industry you're in!).
But unless you know how to use Pinterest strategically, it won't provide results for your business.
Most people believe that Pinterest is a social media site where women look at [wedding, baby, recipes, home decor, insert your thing here!].

But Pinterest is NOT a social media platform. In fact, it shares more commonalities with Google (and we all know how powerful Google is for generating organic traffic!). Which means you need to implement the common "laws" of SEO if you want to outsmart it and organically grow your traffic.
Introducing your #1 system to quickly grow your website traffic and email list...
Pinterest Growth Accelerator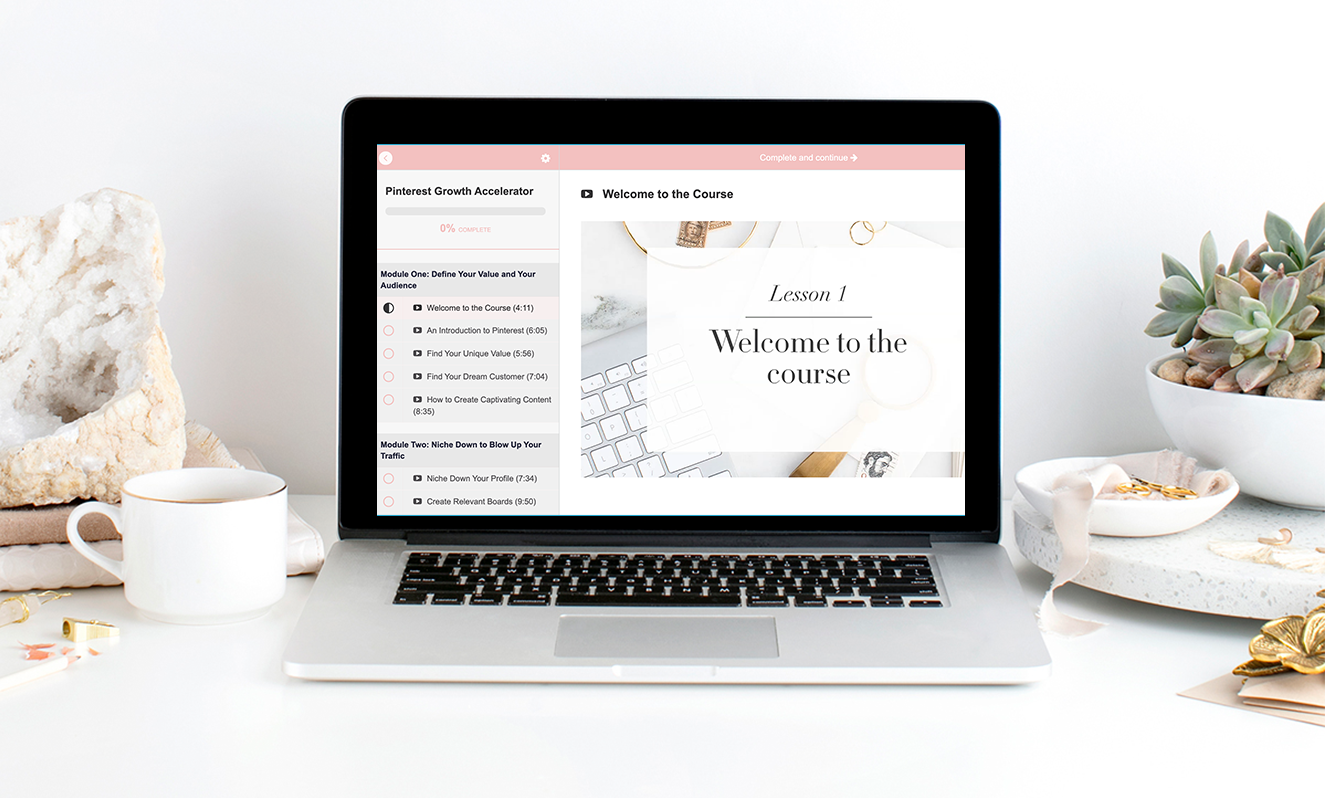 This is the same system I've used to TRIPLE my website traffic and generate 1000+ email subscribers to my email list.

But this isn't "just another Pinterest course". We're going to grow your traffic with intention, so that you attract the RIGHT audience of people -- the genuine, even semi-obsessed followers who become avid readers of your content, because your site reads like a letter written just for them.
You'll attract droves of fans who dig your stuff and whip out their credit cards at the sign of any announcement to buy from you, because your content speaks to their hearts.
Let me take you back to what my business was like before I discovered this ninja tool…
I started out giving marketing coaching to service-based business owners and I wanted to explore ways to get more clients in my business.
I LOVED writing, so I started blogging on drool-worthy topics like how to grow your confidence and monetise that entrepreneur-streak inside of you.


At the time the "stereotype" of a tool like Pinterest was for young women who wanted to brush up on their arts and crafts and indulge in some good ol' escapism.
But I soon realised that Pinterest was more than that.
Way more.
So, I changed my strategy, threw the other platforms out of the window and honed in on Pinterest.
In 5 months I tripled my traffic.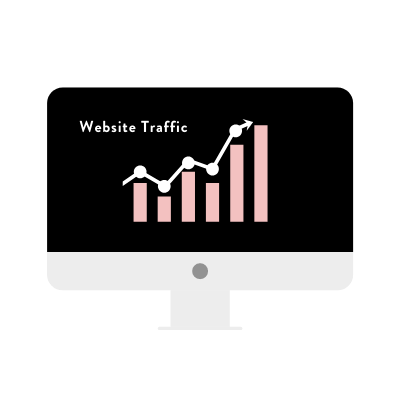 I rapidly grew my reach on Pinterest.
My pins on email marketing were being optimised in the Pinterest Smart Feed.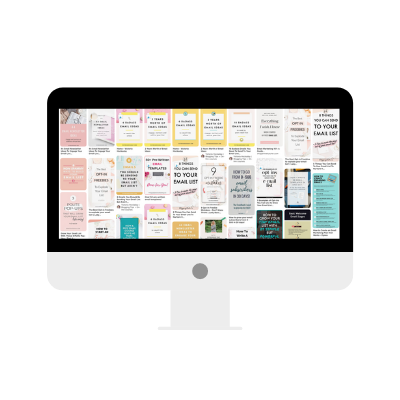 Now? My audience continues to grow and I've helped dozens of budding entrepreneurs do the same thing.

Psst, the 7 pins in the top row are all my pins when a pinner searches "email ideas".
Here is how it all breaks down...



Module 1 - Define Your Value and Audience
This is where you'll create a bulletproof foundation for growing your traffic and audience with total confidence.
The main reason you get overwhelmed with audience-building strategies is because you're not clear and confident on how to serve people. By the time you finish module 1, you'll have total clarity on who you'll attract and how you're going to serve them, so that you attract the RIGHT people to your website.

Module 2 - Niche Down To Blow Up Your Traffic
True or false? Pinterest is a social platform. False! Pinterest is a search engine. Which is why you need to niche down your profile using the common "laws" of SEO on Pinterest.
In this module, I'll teach you how to hone in on SEO strategies, so you can fast track your reach on Pinterest. (i.e., more clicks, traffic and engaged fans!).


Module 3 - Content Planning and Scheduling Pins
Learn how to create captivating content that makes people stop scrolling and start paying attention. You'll learn how to create content with the confidence and consistency you've always dreamed of.
Here's where we'll add major horsepower to your Pinterest engine. You'll learn how to use the best software to schedule your pins and take your traffic growth to a whole new level!

Module 4 - Exponential Email List Growth With Pinterest
The strategies in PGA will give you a proven system to get heaps more traffic to your site. Now you've got to convert those visitors into paying customers. I'll show you how your blog + Pinterest come together, so you can dramatically grow your email list.
Here you'll learn why your email list is your most important asset if you want to have a sustainable business. And, I'll teach you how you can "list to launch" and attract an audience of people who you can pitch your products and services to.

Module 5 - Analysing Analytics for Infinite Traffic
Analytics allows you to make data-driven decisions in your business. I'll teach you how to analyse Pinterest analytics and Google analytics, so you can stop spinning on that hamster wheel and create content that grows your traffic and audience FAST.
Want bonuses? You got it

When you enroll in Pinterest Growth Accelerator not only will you get these bonuses for free.
Pinterest Growth Accelerator workbook

This is an easy-to-follow and step-by-step workbook that will take everything you've learned in PGA into actionable steps.
Lifetime access to all 5 modules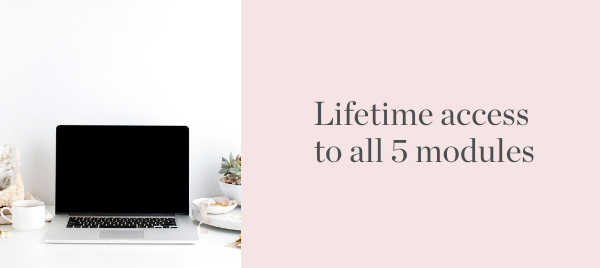 I will regularly check the course to see if there's anything I can improve, so that you have the most-up-to date information and "what's working now" strategies.

Guidance & Support in our Private Facebook group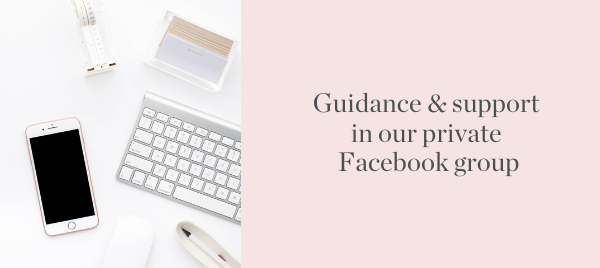 This private Facebook group is where our Pinning rockstar's hangout to ask questions, share their successes and meet other ambitious online entrepreneurs and course creators. You'll have plenty of opportunities to get feedback on your progress and get more exposure on your business with Student Spotlight Award of the month.
You have two options...

You can keep playing the guessing game (which will cost you thousands of hours wasting time trying to figure it out on your own).
Or you can snag my blueprint and get huge results. Once you have your blueprint, there's really no ceiling on what you can achieve (i.e., traffic, email subscribers and sales!).

Now, who is this Pinterest badass that created this program?
Hey, I'm Victoria Hockaday, I'm an online marketing nerd and my greatest joy comes from empowering people with simple marketing strategies to build and grow their online businesses.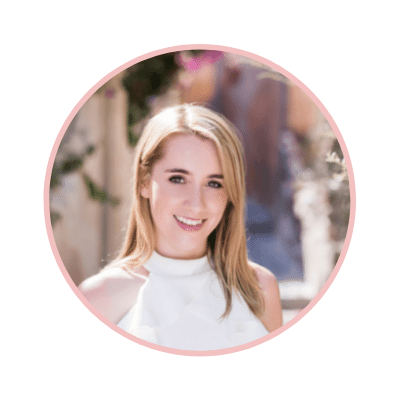 As an online course instructor and marketing strategist, I've helped dozens of women entrepreneurs grow their businesses using a mix of step-by-step strategies, simple formulas and methods.
"So what's your Pinterest game plan?"
I like to couple simple Pinterest strategies with email list building, so that I have a well-oiled machine that brings me subscribers and customers on auto-pilot. That's why in PGA I go beyond traditional Pinterest advice and show you how to dramatically grow your email list, so you can SELL more products and services.These are my tried and tested strategies I've learned in the trenches, so you can avoid the mistakes I made when starting out.
Since implementing the PGA system I've been able to dramatically grow my traffic, email list and gain more consulting clients.
And now? You can get this step-by-step system showing you the key steps for pinning success. I can't wait to reward you for your Pinterest perseverance!
Who is Pinterest Growth Accelerator for?
Beginners with a capital B! You are just getting started with Pinterest and are completely lost with how to create content that converts their audience
Coaches, creatives and consultants. You want to rapidly grow their email list and sales, so you can spend more time doing things you love.
Infopreneurs. You're tired of seeing sales trickle in once a month and want to grow an engaged tribe.
Aspiring course creators! You're itching to grow your email list because you know it's the lifeblood of an online business. One day you'd love to launch an online course or membership site -- but you know that you need an engaged tribe first.
Frequently Asked Questions
When does the course start and finish?
The course starts now and never ends! It is a completely self-paced online course - you decide when you start and when you finish.
How long do I have access to the course?
How does lifetime access sound? After enrolling, you have unlimited access to this course for as long as you like - across any and all devices you own.
What if I am unhappy with the course?
Complete the course to the best of your ability and ask for help when you need it. If you have completed the course and you're unsatisfied with your purchase, contact us in the first 7 days and we will give you a full refund.
Will it work for my business?
This course is for online business owners (like creatives, consultants and coaches). It is designed to help you infinitely grow your traffic and email list and you'll learn how to promote your content, so you can increase your sales. This is perfect if you're launching an online course and you need to attract an audience of people without using paid Facebook advertising.
My budget is pretty tight right now and I'm not sure if I can afford this.
Luckily a payment plan option is available. At the checkout you can choose to enroll for one full payment or split it over four months.
Will this work for me?
This course is perfect for you if you're struggling to "grow your traffic" and email list. You'll wake up with "I found you on Pinterest" leads instead of having to pay to play with Facebook advertising. You'll learn how to bubble up to the top of your dream customer's feeds no matter what niche you're in.
I've bought other Pinterest courses before and they didn't work. I'm worried this is "just another Pinterest course". How is yours different?
I know what it's like to feel disappointed when you purchase a course and it's not what it hyped up to be. The Pinterest Growth Accelerator is a comprehensive course that will show you how to skyrocket your traffic using my signature system. Most Pinterest courses only focus on Pinterest - how to set up your profile, design pins and schedule your content. What they don't talk about is how it all comes together, so you can increase your online sales. Driving traffic to your website is only 10% of it. Then, you need to get those new visitors to subscribe to your email list so that you can stay in contact with them, build a community, and tell them about your products or services. Which is why you'll learn these essential steps in the PGA system – woohoo!
How much time will I need to set aside each week for the content?
This is a go-at-your-own-pace course and it will differ for everyone. Depending on how you like to learn you could binge-watch it over a few days or you could work through the course over a period of four weeks. I recommend that you listen to the lessons once or twice and then implement them. You're free to pause when you're going through a busy period and revisit a lesson if you're stuck and want to refresh what you've learned.
I don't have a product yet, why should I join now? How will this help me?
One of my mottos is: start before you're ready. The only way you grow is by taking positive inspired action. This course will teach you how to define your unique value and audience, so you have the clarity and confidence you need to infinitely grow your traffic and email list. This will give you a solid foundation, so you can create and promote offers to an engaged audience.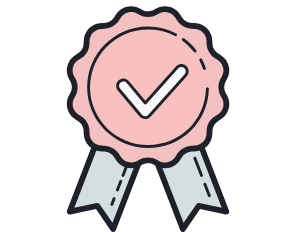 14 Day Money-Back Guarantee
Pinterest Growth Accelerator couples my Pinterest strategies and list-building strategies into a full-proof system that will help you create pinning success.
If you're on the fence…or you go through the course and see no results, then I will gladly refund your payment in full within 14 days.
It's your time and you're ready for the next step.
If you want to get heaps more traffic, more email subscribers and increased sales then Pinterest Growth Accelerator is your passport to get there, fast.